Keep Your Smile Healthy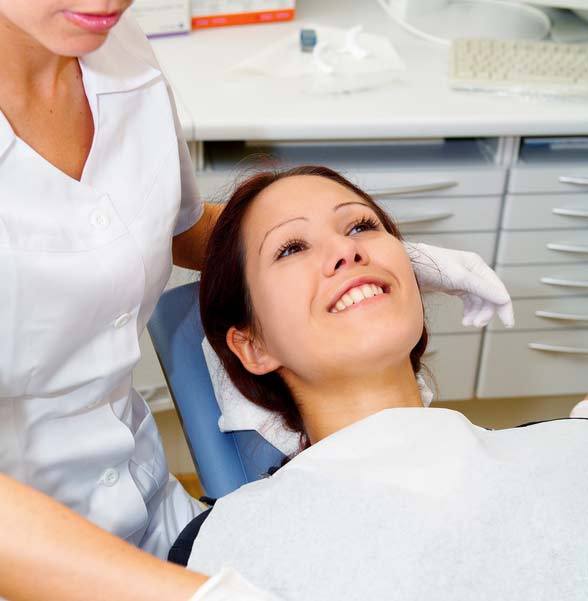 We offer a variety of services including specialization in mouth restoration.
Taking good care of your teeth now will allow you to enjoy years of healthy benefits, good meals, and wonderful smiles to share with friends and family. We offer comprehensive dental care, including preventive care, restorative treatments, and endodontics.

To improve the aesthetics of your smile, we also offer a wide variety of cosmetic treatments as well as sleep apnea devices. Scroll down to learn more about the services we provide and how we can help you and your family.

Contact Us Today
Fillings
Fillings are used to treat cavities, repair cracked or broken teeth and teeth that have been worn down from misuse (such as from nail-biting or tooth grinding). We offer resin based cosmetic fillings, porcelain inlays and onlays, and gold inlays.
Crowns
A dental crown is a tooth-shaped "cap" that is placed over a tooth -- to cover the tooth to restore its shape and size, strength, and improve its appearance. We offer Porcelain crowns, porcelain fused to gold crowns, and all gold crowns.
Bridges
Porcelain fused to gold or all porcelain bridges, like implants and partial dentures, are used to replace missing teeth. There are several types of fixed dental bridges (cannot be removed) and we can help you decide upon the most appropriate type for your needs.
---
Dentures
A denture is a removable replacement for missing teeth and surrounding tissues. We can use chrome, arcylic, and Flexiplast to create full or partial dentures.
Occlusal Guards
Occlusal guards are custom-fitted plastic mouthpieces which are worn over the teeth to protect them against damage caused by clenching or grinding.
Anti-snoring Device & Sleep Apnea Devices
Anti-snoring and obstructive sleep apnea devices have become increasingly popular in recent years. They are easy to get used to and are a very effective solution for patients with snoring or breathing problems.
---
Endodontics
With dental advances and local anesthetics, most people have little if any pain with a root canal. Root canals save thousands of teeth that may otherwise be extracted. Dr. Nalls has extensive experience in endodontics and is able to treat all but the most difficult cases which are reffered to a specialist.
---
Testimonial
Dear Mac,

Thank you for the perfect end result from the countless number of hours spent working in my mouth over the past nine months. As you know, I had been wanting to have this done for many years but kept conveniently putting it off. You were honest with me explaining the long process involved. However, you did not explain your meticulous attention to detail, your patience, and your desire to inspire. I was satisfied! I appreciated your understanding, as well as the sensitivity of your caring staff.

I love my new look. It's made a big difference in how I feel about me. I owe you a lot…but then again I paid you a lot…but it was well worth it!

Sincerely,
John Overton

John Overton Sarasota, Florida
---